This first part was written by Aviva Ron – with thanks.
There is so much written about him, but the following is a short biography. I also added something on Cynthia Zukas, who is a granddaughter of Isaac Ochberg.
Cynthia is now 92 years old and is still active in the Lechwe Trust Art Gallery in Lusaka – the Trust supports Zambian artists.
You will see why I had and have such respect for these people.  Simon grew up in Luanshya next to my town Ndola so I "always" knew the family. He got my late father involved as a freedom fighter for Independence.  Together with Simon and Cynthia, we officially opened the Copperbelt University School of Medicine in my town, Ndola in 2017.  The funds to build the medical school came from the sale of the synagogues in Zambia – a decision made by Simon as Chairman of the Council of Zambian Jewry and the late Michael Galaun in 2014.  Every time I saw them in recent years, he and Cynthia gave me donations for Barefoot school, to support graduates in secondary school.  Not many people like that! To commemorate one year after Simon's passing, Cynthia donated funds for improvement of the Jewish Building of the Copperbelt University School of Medicine.
The day of his funeral was a national day of mourning.
Scroll down for full biographies.
See also an obituary in the Guardian.
Picture below : Simon and Cynthia.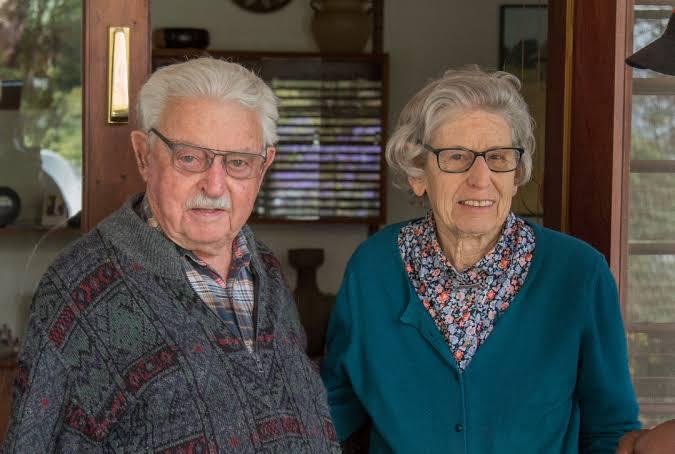 Descriptions of above photos : At the Ochberg memorial meeting in 2011, The "Jewish Building" at the Medical School, a photo before cutting the ribbon in 2017, with Ann Harris, at Barefoot School in 2017 near Ndola with sister Philomena (Mother superior of the Ndola Convent, Cynthia and Simon have supported several kids through secondary school).  Group photo is the Indaba we had in May 2022 – gathering of Israelis who were on the cooperative agricultural project on the Copperbelt 50 years ago.  The Zambian and Israelis ambassadors were there and it was a wonderful nostalgic gathering.
Simon Zukas has died aged 96
September 28, 2021
Simon Zukas has died aged 96
Simon Zukas, one of Zambia's independence heroes and most admired figures, has died aged 96. He passed away at 21:05 pm. Zukas was one of the proponents of the reintroduction of multi-party politics and held several positions in the MMD government.
Mr Zukas and his family came from pre-war Lithuania to what was then the British colony of Northern Rhodesia because it did not employ quotas limiting Jewish settlers — unlike South Africa and Southern Rhodesia, later Zimbabwe.
He later joined the territory's struggle for independence and today remains a standard-bearer for its small Jewish community as chairman of the Council for Zambian Jewry, an umbrella organisation.
Mr Zukas's schooling took him to the University of Cape Town, where he studied civil engineering. His time there coincided with the inauguration of apartheid, which thrust him into radical student politics and inspired him to join the main nationalist movement, the African National Congress, when he returned to Northern Rhodesia.
An active participant in the country's struggle for independence, he was eventually deported to Britain but, following statehood, was invited in 1965 to return by the new country's president, Kenneth Kaunda.
By now a qualified engineer running a successful consultancy in England, Mr Zukas said he moved back to offer his professional expertise in major infrastructure projects.
A career in politics also followed: his efforts to persuade Mr Kaunda and his United National Independence Party to abandon a one-party state failed and, in 1990, he joined the drive towards multi-party politics, playing a leading role in its subsequent return.
Mr Zukas was most recently leader of the Forum for Democracy and Development, an opposition political party. He retired from politics in 2005.
President Hakainde Hichilema has accorded an official funeral to the late Simon Zukas who died at the age of 96 on Monday, September 27, 2021 at his residence.
In a statement released yesterday by Secretary to the Cabinet, Simon Miti, President Hichilema described the late Zukas as a gallant freedom fighter, veteran politician who served as cabinet minister in the Movement for Multiparty Democracy government.
Mr Miti disclosed that the President has also declared a one day of national mourning on Tuesday, October 5, 2021 in recognition of the numerous contributions he made towards the attainment of freedom in the country.
The late Simon Zukas will be buried at leopards Hill Memorial park in Lusaka on Tuesday October 5, 2021.
Simon's wife – Cynthia Zukas
Cynthia Zukas is a Zambian painter; she received the Order of the British Empire in 2012.
Zukas was born in 1931 in Cape Town, South Africa. She went to school in South Africa, where she started her art career, and later went to London where she studied as an art teacher. In London she met Simon Zukas who she later married.
After a few years, Simon and Cynthia moved to Zambia and Cynthia became a full-time housewife. The two have two children. During her free time, she used to draw, which she still does today. A few years after coming to Zambia, she was introduced to the Lusaka Art Society. This is where she met different artists and became the secretary of the society. It was later that she cofounded the Lechwe Trust, an organization aimed at developing visual arts in Zambia. She also played a big role in the Zambia National Visual Arts Council (VAC).
Some of the artists that she notes who have contributed to the Zambia's art are Henry Tayali and Valentine Musakanya.[4] It is through her artwork that Cynthia earned herself international recognition even among westerners.

Cynthia's grandfather
OCHBERG, ISAAC (1879–1938), South African philanthropist and Zionist. Ochberg was born in the Ukraine and went to South Africa in 1894. A successful Cape Town businessman, he was best known for his humanitarian project in bringing some 200 Jewish pogrom orphans from the Ukraine and Poland to South Africa after World War I. In 1921 he travelled to Russia on his own initiative, personally selected the children and organized their transportation to South Africa, where they were cared for by the Jewish orphanages in Cape Town and Johannesburg and the South African Jewish War Victims Fund. He returned to Russia the following year and distributed food, clothing, and medicines to the starving people in the war-afflicted areas. Ochberg served on the Cape executive of the South African Jewish Board of Deputies and other communal bodies. Among his benefactions were bequests to the Isaac Ochberg Fund for bursaries and to the Hebrew University for extensions and scholarships. In Israel the kibbutz Galed was also called Even Yiẓḥak in his honor, and his estate was used to purchase the land of kibbutz Daliyyah, where a monument to him was erected.
Cynthia's awards.
| | | | |
| --- | --- | --- | --- |
| ear | Award | Category | Result |
| 2000 | National Arts Council  | Ngoma award for outstanding contribution in the development of the visual arts | Won |
| 2011 | Julia Chikamoneka Freedom Award  | Press Freedom Committee of The Post Newspaper (PFC) | Honored |
| 2012 | Queen Elizabeth II of Great Britain an Order of the British Empire (MBE) | For promoting visual arts in Zambia and for creating a historical archive of Zambian art | Received |