The Bulawayo hebrew congregation
The Bulawayo Hebrew Congregation was inaugurated on August 12, 1894 as the first white settlers established their homes.  By 1895 the Jewish population numbered 94 and the first Jewish marriage took place between Mr and Mrs Jacobs.  
The congregation flourished over the years and grew to its peak in the late 1960s of over 3,000 with Jewish primary school, a Reform Shul, Jewish Sports Club (Park View) and many community organisations such as WIZO, Habonim, Betar and Bnei Akiva Youth Movements, CAZO and more. The Centenary magazine published in 1994 tells the detailed story of the congregation.
——————————————————————————————————
We have added two comprehensive documents prepared with grateful thanks to David Gelfand and listing 
a) the numerous committees of the Bulawayo Hebrew Congregation going back to 1923 – click here
 b) a list of all the Presidents and committees of the Bulawayo Hebrew Congregation going back to 1894 – click here
Our sincere thanks to David Gelfand for the many hours of work in preparing these documents.
Please also note that a full copy of the Bulawayo Hebrew Congregation Centenery Magazine is now also available on the website with kind assistance of Paul Bernstein. ZJC are every grateful to Paul to his contribution in preserving this important document – click here
This page of the ZJC site brings a number of records of the Bulawayo Hebrew Congregation including pages from its centenary magazine, some 600 marriage certificates, Savyon Lodge report and pictures of residents taken in 2004, video clips of the Shul before and photos/reports after the tragic fire of 2003 and a unique selection of photos depicting the Yiddish Theatre group of Bulawayo.
Click on these links or the menu pages on the left to drill down to the pages which interest you.
The ZJC website is seeking additional material and welcomes contact from readers who may have pictures, text, biographies or any documents of interest. Please contact the editor.
Below is a model of the Bulawayo Shul before the extension was built in the 1960s. With thanks to the Trappler family who have the actual model in their possession.
Below right is a video of the Shul and other aspects of the Bulawayo Community taken by Michael Kretzmer.
Immediately below is a gallery of a newspaper called the Bulawayo Sketch – published in April 1895 with fascinating insights into the early days of that city and several references to Jewish personalities and businesses. After opening the gallery – use your browser to enlarge for easier reading of individual pages.
This picture of the original layout of the Bulawayo Synagogue was provided by the Trappler family who still have the model in their possession.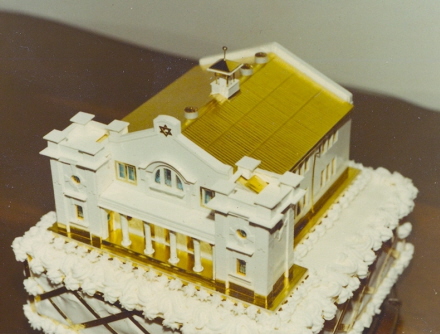 This film below was taken and edited by Michael Kretzmer.  He wrote: "The beautiful Bulawayo Synagogue, since destroyed by fire. I shot this using a crude Hi-8 camera many years ago on a winter morning."
The gallery below is a collection of photos of the Bulawayo Hebrew Congregation – some historical and some from 2022 –  mostly provided by Rabbi Moshe Silberhaft