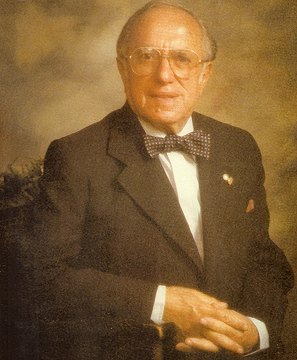 1914-2003
(source The Newsletter of the Commonwealth Jewish Council and Trust – March 2004)
In August 2003, Age Galaun, founding member and Patron of the Commonwealth Jewish Council, and a leading member of the Zambian Jewish Community, sadly passed away.
He was bom in Vamiai, Lithuania in 1914, one of ten children. His father was a butcher, the trade and craft which absorbed and occupied Abe all his life. At the age of 21 he was conscripted for two years into the Lithuanian army, but as soon as his military service ended, decided to
join his many siblings, already in South Africa. His preferred destination was the then Palestine, but entry to Jews was by then restricted by the British. He was only
allowed to stay in South Africa for six months and eventually settled in Northern Rhodesia. Here, he found a true, generous home where he could, and did, make a life for himself. Sadly his parents, who remained in Lithuania with his  with his youngest sister, did not survive the German occupation of Lithuania.
Throughout his life in Zambia, Abe continued to remember his family in Lithuania and inscribed their memories into the landscape of his new life. He visited
Lithuania several times and was in touch with civil and government dignitaries at all levels. He and Vera, who he married in 1945, had two sons, Jack and Michael. When in recognition of his contribution to the promotion of Zionism, the State of Israel constructed a synagogue in his honour, he asked that it be named Ohel Michal in honour of his mother.
To list Abe's achievements would be impossible. He was Gabbe of his shul for many years; he led the local Chambers of Commerce; led national trade missions to neighbouring countries; owned one of the finest race horses in Zambian history; served on numerous charitable institutions such as Cheshire Homes, the originating committee set up to establish the University of Zambia, and latterly The Zambian Trust which he founded. A founder member of the Rotary Club of Lusaka, he served as District Governor in 1986. Together with Vera, Abe received The Commonwealth Jewish Council prestigious annual award for 'Services to the Community' in 1986. His son Jack is Honorary Secretary.
He was closely involved in affairs concerning Israel and Zambia both during the times when the former maintained a diplomatic presence there, but more especially when ties were severed, when he became an unofficial conduit for
dialogue between the two countries. He also created The Council for Zambian Jewry, which is now headed by his son Michael.
Abe was a firm believer in family ties, associations and values. He leaves behind his devoted wife Vera, sons Jack and Michael, daughter in law Fanelle, sister Zira and six grandchildren to carry on his legacy.