CHILDHOOD REMINISCENCES OF AN EARLY SETTLER'S DAUGHTER
BY ESME NEWFIELD
My father, Joseph Schattil arrived, in this country in late 1897 having come from Ritavas, near Plunyan, in Lithuania.  Arriving in Cape Town he then took the train to the railhead, at Mafeking, completing the journey to Bulawayo by Cape Cart. Like so many of the early settlers, he engaged in the Native trade as it was then called.
Weekends when possible were spent in Bulawayo and he was one of the first members of the Chovevi Zion Society.  One weekend, he very nearly lost his life when riding into Bulawayo, when during a fierce thunderstorm his horse was struck by lightning. He was thrown onto a rocky outcrop but came to and managed to walk into town although very badly battered and bruised.
My mother, Dina Masinter, came to Salisbury in 1906 from Tavrig (or Tauroggen) Lithuania as it was also called. She came via the East Africa Coast route, disembarking at Beira. There were no docks there at the time and passengers had to be carried ashore. She came out to stay with her sister, Mrs. RayI Isaacson, who lived in a house on Belvedere Road near the Kopje of Salisbury, Rhodesia. My parents met in Salisbury and in September 1907 they were married at the home of a Mr and Mrs Bernstein.
My mother's first home was at the Jumbo Mine, one of many mines they moved to. These Included, the Miffel Blue, Lonely, Queens and the Alaska Copper mine, but from 1929 onwards they remained in the QueQue district in the Midlands. There was no shul in QueQue in the pre-war (1939) days, and Yom Tov services were Held in W.I Hall.
My father in his day was a storekeeper, butcher and baker and I remember as a small child traveling with him out on the Gokwe Road to Zhombe and Jombe, buying cattle for his butchery. I remember Chief Kassela a most hospitable man. Meat in those days used to sell for 3d (pence) a pound and a big ox cost about Sterling 2.10.0. 
Roads were dirt. Tracks in some parts and it wasn't until the strip roads were built in about 1937 than any decent road really existed in the country districts. I remember my father directing the cutting of a road through the bush from the Blue Mine to the Gothic Mine in Lower Gwelo.
For relaxation there was always a game of "Solo" on Sundays in Que Que, played at the homes of the friends like the Slomans, Ricks and Kahns. There were also two film shows a week, on Wednesday and Saturday nights, shown at the G and P Hall. The Que Que Hotel also used to show films but if my very early memory serves me correctly the film hall burnt down in the early 1930s and the present Modern part of the Hotel now stands in its place. Mrs and Mrs Aronowitz ran the Hotel.
My father had one great love – prospecting, and the rest of the family were also keen to tramp in the "bush on a Sunday morning  armed with a prospector;s hammer, sample bag, and a shotgun, just in case. I never saw any predators on foot safari, but I remember the time when, travelling in a vanette, we came across a pride of lions at the Giraffe Spruit. Our African servant, sitting in the back of the open, vanette was terrified and who could blame him.  My father was a conservationist of wild life, and never shot a buck or other wild game. Game was plentiful in those days, especially in the vicinity of pans -in the rainy season.  Talking of rainy seasons I am reminded of 1939 when the rains just went on and on. A corduroy of thick sticks had to be laid across the dirt roads so that cars could get through otherwise your car was likely to sink to its axles in mud.
Life out in the country was hard indeed for women. There was no running water or electric light, and it was only in 1935 that we bought a paraffin refridgerator, and what a luxury that was. Wood stoves were the vogue and these were housed in hot kitchens with corrugated iron roofs, on account of" the fire hazard.  Most kitchens were separate from the main dwelling for this very reason. At night paraffin lamps and candles lit the house. Water had to be carted in the Main as the water collected from roofs into large water tanks during the rainy weather was not of itself sufficient.  Bath water was either heated on the.kitchen stove or an outside fire, and had to be carted into the bathroom in buckets as was the cold water. Laundry was done down at the river if there was one in walking distance.  Houses were mostly built of pole and dag'ga  (mud) with a thatched roof and they were wonderfully cool in summer.
Other houses were built with a timber frame and were Australian style, on stilts. The inner shell of the house was panelled with wood and the outer shell was made of corrugated iron. It was cool under the floor of these houses and with no fridges at that time many items were stored under the house. Being in stilts it was also easy to monitor the presence of white ants under the house. Loos were built a goodly distance from the houses and a journey there by torchlight was often a nightmare with snakes, large hair spiders snad bats encountered on the way. On occasions the cough of a leopard could be heard or the bark of a jackal.
Picnics were a favourite form of spending a Sunday in the country especially to the Sebakwe Poort. How we ever escaped getting bilharzia remains a mystery but perhaps it was not so prevalent then as most rivers seemed to run all year dound. We used to go out there on the back of Sloman's lorry all the young Jewish boys and girls in the town plus several older people who were also keen on picnics. There was the Mintz family, the Benatars, Menashes, Baldachins, Kahns and Middledorfs.
A big event every Sunday was for practically the whole population to go down to the railway station to see the Bulawayo to Salisbury mixed train pass through.  One heard all the news this way, and it was seldom that someone didn't know at least one of the passengers who were passing through.
Today the Jewish Community of Kwe Kwe has all but disappeared. The old timers have all passed on and of those of my generation who grew up in this small Rhodesian town very few remain in the country.
Of my family both my parents have passed on and are buried in the Bulawayo cemetery. My older brother Ralph is still in Kwe Kwe, my other brother Alex joined the Civil Service when he left school in 1928 and rose to become the Commissioner of Taxes. He and my other sister Ida died in 1968. My husband and I are still farming in the Enterprise district just outside Harare. Of the four generations who once lived in the two Rhodesias only Ralph and I remain.
Hope this is of some interest.
Esme Newfield.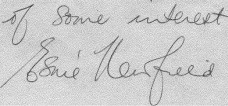 Dinner/dance at the Sephardi Hall 1949 – Charlotte and Abe Shulman, unknowns, Hancy and Bennie Goldin, Esme and Stooky Newfield.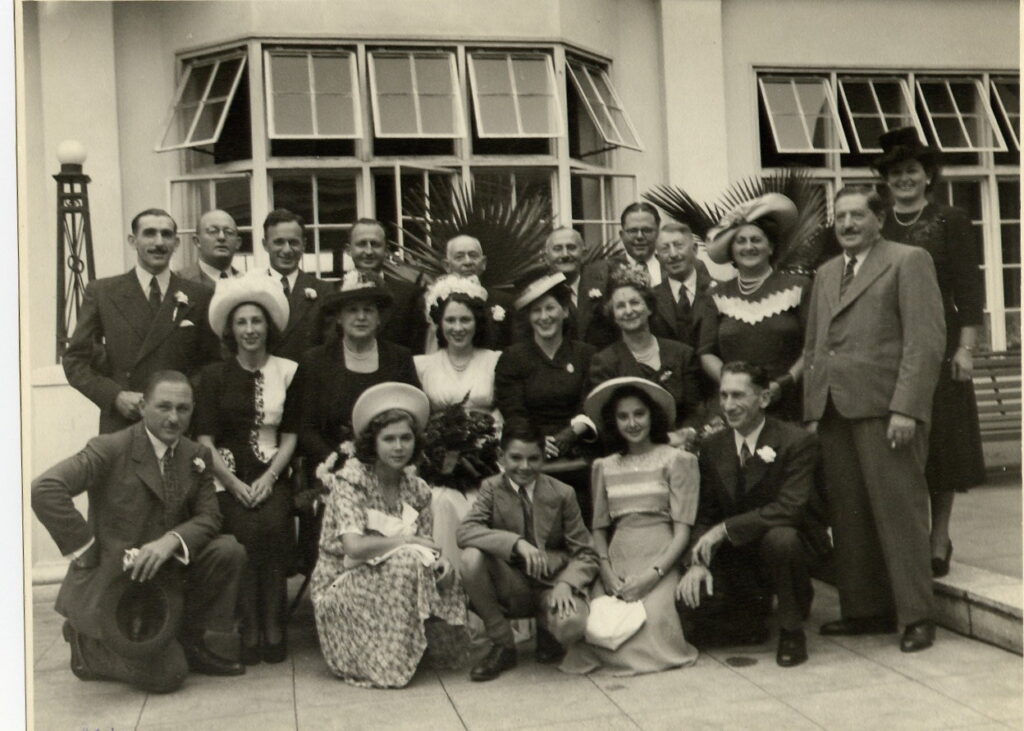 Wedding entourage shows a few Zimbabweans – : Front row ; Alex Schattil, Rhona Hirshowitz, Michael Hirshowitz, Shalamit Herschowitz, Ralph Schattil. Middle row seated : Ida Samson, Dina Schattil, Bernice Price, Les Price, Annie Susman, Pearlie Abrahams, Jacob Schattil Back Row: Ronnie Samson, Jack Price, Phil Newfield, unknown, Maurice Newfield, Harry Susman, Oscar Susman, Joe Schattile, Annie Hirschowitz.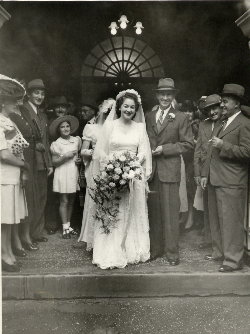 Newfield wedding, Salisburg St Synagogue March 28, 1948 – on the sides are Les Lessem, the little girl is Moria Susman, behind her is Harry Susman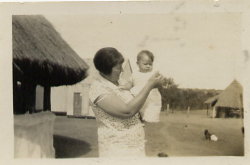 Photo of Esme Newfield and her mother (Dina Schattil) taken on one of the mining towns were they lived -circa 1927/1928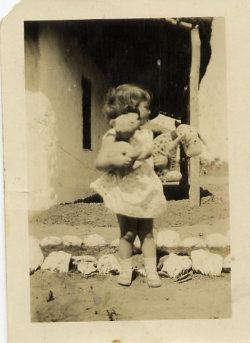 Esme Newfield – taken on one of the Rhodesian mining towns were they lived -circa 1927/1928